034 Motorsport X34 Carbon Fibre Full Intake System for Audi RS5 B9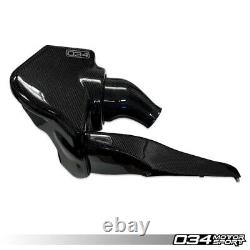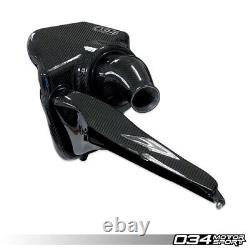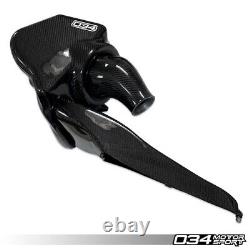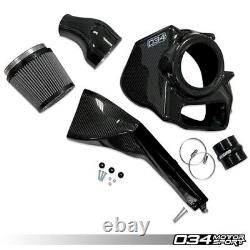 034 Motorsport X34 Carbon Fibre Full Intake System for Audi RS5 B9. 034Motorsport focuses on optimizing every aspect of the intake system across a broad range of variables and compromises. A critical component of a high-flowing performance intake is the ability for air to flow around and into the filter. If the air cannot flow freely around the filter, it will be restricted from getting into it. Many aftermarket kits fit too large of a filter in an enclosure that cannot accommodate its size, thus choking the filter and reducing its overall flow.
This often happens when a product is engineered for one variable at the expense of others. 034Motorsport conducted extensive tests and refined its development of the intake design to allow for maximum airflow surrounding the air filter, allowing for optimal airflow to, and through, the filter. The final result is the right size filter in the right size filter housing, creating maximum airflow and performance with OEM level filtering; the ultimate goal of any intake system.
Be cautious of any intake that brags only of air filter size without taking into account the detrimental effects of shrouding the filter. Significant effort went into developing this comprehensive performance intake solution for the twin-turbocharged 2.9 TFSI engine found in the latest generation B9 Audi RS5. Subsequently, the X34 Carbon Fiber Full Intake System offers discerning enthusiasts measurable increases in horsepower and torque, sporty induction and turbocharger sounds, and a beautiful carbon fiber airbox and inlet pipe design. Throughout the development process, multiple designs were modeled, prototyped, and tested - all to ensure that the X34 Carbon Fiber Full Intake System delivers measurable performance benefits and superb fitment. The result is a partially-enclosed airbox which uses the factory fresh air inlet duct and heat shield, while housing a massive 5 inlet conical air filter, and a matching CFD-optimized carbon fiber filter tube. Full Vehicle Compatibility: Audi RS5 B9. WG Motorparts is built on our passion for cars. We supply aftermarket car parts for all makes and models of vehicles. Our network of over 50 global manufacturers means that we can get the parts you need, when you need them. And because we deliver worldwide we can send those parts anywhere, direct to your door. So if you need a specific part or a custom package that isn't listed on our website yet, get in touch and we'll do all the work.
Get in contact with one of our knowledgeable support representatives today. Please be aware that some of our items are made to order and can carry extended lead times.
Upon receipt of your order please check the package and contents. "Item arrived quickly, no issues, will trade againfor sure".
"Happy, good postagedeal with anytime".