034 Motorsport X34 Carbon Fibre Intake, B8/8.5 S4/S5 3.0 TFSI for Audi S4 B8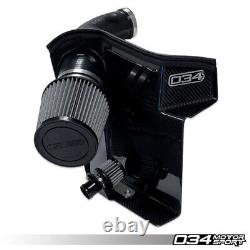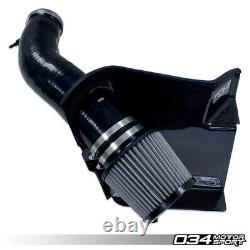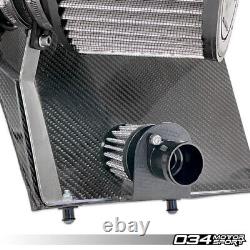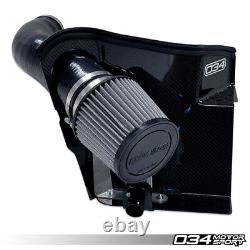 034 Motorsport X34 Carbon Fibre Intake, B8/8.5 S4/S5 3.0 TFSI for Audi S4 B8. Significant effort went into developing this comprehensive performance-improving intake solution for the Supercharged 3.0 TFSI engine found in the B8 and B8.5 generation of S4 and S5. Subsequently, the X34 Carbon Fiber Intake, Audi B8/8.5 S4/S5 3.0 TFSI offers discerning enthusiasts measurable increases in horsepower and torque, more aggressive induction sound and supercharger whine, and a beautiful carbon fiber heat shield to prevent hot air from the engine bay from entering the intake. Throughout the development process, multiple designs were modeled, prototyped, and tested - all to ensure that the X34 Carbon Fiber Intake delivers measurable performance benefits and superb fitment. The result is an optimized open-airbox design that utilizes the factory fresh air duct inlet to channel cool outside air to the filter.
This large airbox design allows for a massive 4 inlet conical air filter, free of restrictive shrouding, and channels air through a CFD-optimized 4-ply silicone inlet hose that smoothly increases air velocity to the throttle body. Full Vehicle Compatibility: Audi S4 B8. WG Motorparts is built on our passion for cars. We supply aftermarket car parts for all makes and models of vehicles. Our network of over 50 global manufacturers means that we can get the parts you need, when you need them. And because we deliver worldwide we can send those parts anywhere, direct to your door. So if you need a specific part or a custom package that isn't listed on our website yet, get in touch and we'll do all the work. Get in contact with one of our knowledgeable support representatives today. Please be aware that some of our items are made to order and can carry extended lead times.
Upon receipt of your order please check the package and contents. "Item arrived quickly, no issues, will trade againfor sure". "Happy, good postagedeal with anytime".