034Motorsport X34 Carbon Fibre Open Air Intake System For Audi RS3 8V 367hp PFL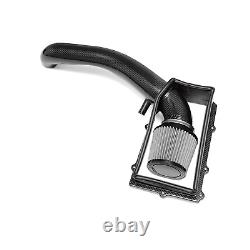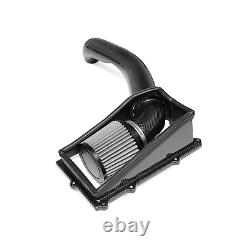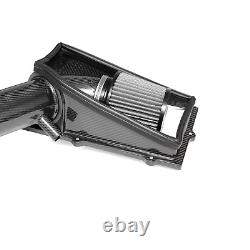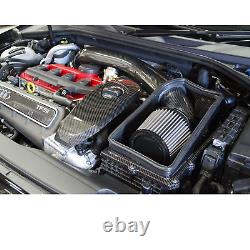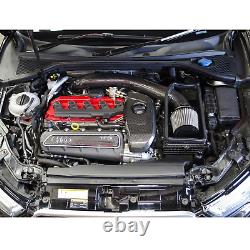 034Motorsport X34 Carbon Fibre Open Air Intake System For Audi RS3 8V 367hp Pre-Facelift. 034Motorsport is pleased to present our X34 Carbon Fiber Cold Air Intake System for the 8V Audi RS3 Sportback! 034Motorsport's engineers spent extensive effort to develop a complete cold air intake solution for the first generation 8V Audi RS3 (with iron block) that yields horsepower and torque gains over the well-designed factory airbox. During the development process, many iterations were designed, prototyped, and tested, which resulted in this beautifully-manufactured Carbon Fiber Cold Air Intake System. 034Motorsport engineers first created a CFD-optimized carbon fiber intake tube, which is a direct, high-performance replacement for the plastic factory accordion hose. Using CAD software and 3D scanning technology, 034Motorsport was able to maximize the cross-sectional area of the intake tube while being mindful of space constraints, including the factory high-pressure fuel pump and firewall. The resulting part is a functional work of art - maximizing performance given the factory space constraints and featuring smooth transitions that ensure optimal airflow to the turbo inlet. Minimizing Intake Air Temperature To ensure that the 034Motorsport X34 Cold Air Intake System draws in cool, dense air, the system includes a carbon fiber heat shield to replace the upper airbox. Bolting to the factory lower airbox, this heat shield allows the high-flow conical filter to breathe cold air from the factory inlet duct before the radiator. Both the carbon fiber heat shield and carbon fiber intake tube are designed to aid in isolating cold, dense intake air from the heat of the engine bay. Minimizing Unnecessary Filter Shrouding 034Motorsport focuses on optimizing every aspect of the intake system across a broad range of variables and compromises. A critical component of a high-flowing performance intake is the ability for air to flow around and into the filter.
If the air cannot flow freely around the filter, it will be restricted from getting into it. Many aftermarket kits fit too large of a filter in an enclosure that cannot accommodate its size, thus choking the filter and reducing its overall flow. This often happens when a product is engineered for one variable at the expense of others. 034Motorsport conducted extensive tests and refined its development of the intake design to allow for maximum airflow surrounding the air filter, allowing for optimal airflow to, and through, the filter.
The final result is the right size filter in the right size filter housing, creating maximum airflow and performance with OEM level filtering; the ultimate goal of any intake system. Be cautious of any intake that brags only of air filter size, without taking into account the detrimental effects of shrouding the filter. OEM+ Fit & Finish 034Motorsport carefully selected the carbon fiber weave on the intake tube and upper airbox heat shield to match the factory carbon fiber engine trim found in the 8V Audi RS3's engine bay. The X34 Cold Air Intake System for 8V Audi RS3 was designed to fit like a factory part, and mates directly to the turbo inlet pipe and factory lower airbox to provide an OEM+ look. Dyno-Proven Horsepower & Torque Gains 034Motorsport's engineering and development efforts were validated by dyno testing performed on Awesome GTI's Dynojet Dynamometer to ensure that the 034Motorsport Audi RS3 Cold Air Intake System provided substantial increases in horsepower and torque, even on stock turbo vehicles.
Peak Wheel Horsepower & Torque with Stage 2. Stock Intake: 440 Crank Horsepower / 543 Crank Foot-Pounds of Torque.
X34 Carbon Fiber Intake: 454 Crank Horsepower / 547 Crank Foot-Pounds of Torque. High-Quality OEM+ Carbon Fiber Construction. Factory Airbox & Intake Tube.
Dyno-Proven Horsepower & Torque Gains. Increased Engine & Induction Sounds. 034Motorsport Carbon Fiber 8V Audi RS3 Air Intake Tube. 034Motorsport Carbon Fiber 8V Audi RS3 Upper Airbox Heat Shield. 034Motorsport Double-Layer Pleated Air Filter. Audi RS3 8V 367hp 2.5 TFSI Pre-Facelift (Not For US-Models). If there will be any delays in your order you will be informed within 24-48 hours. This item is in the category "Vehicle Parts & Accessories\Car Tuning & Styling\Air Intake & Induction\Performance Air Intake Systems". The seller is "haz_motorsport" and is located in this country: GB. This item can be shipped worldwide.
Manufacturer Part Number: 034-108-1010
Country/Region of Manufacture: United Kingdom
Reference OE/OEM Number: 034Motorsport, 034 Motorsport, Induction Kit, 034-108-1010, Intake Kit, Audi RS3 8V Intake Kit
Brand: 034 Motorsport
Grade: Carbon Fibre
Vehicle Fitment: Audi RS3 8V 367hp Model Only