X34 Carbon Fiber MQB Cold Air Intake System, Audi TTS 2.0 TFSI (2015-2017)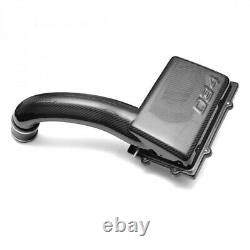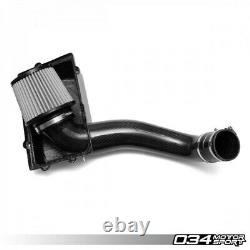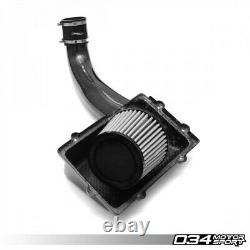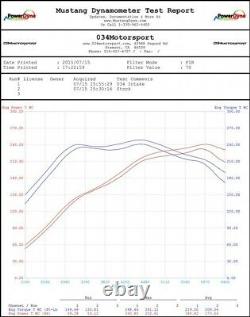 TurboZentrum - The UK Supplier For Performance Parts. Offering dyno-proven peak gains of up to 15 crank horsepower and 12 ft-lbs of torque on a completely stock vehicle, and over 30 crank horsepower and 25 ft-lbs of torque on vehicles equipped with Stage 1/2 Performance Software, the X34 Intake System is the ultimate induction solution for your Audi or Volkswagen. 034Motorsport's engineers thoroughly evaluated the factory airbox design to create a performance replacement that reduces pressure drop in the intake tract, while offering OEM+ fit and finish. The result is this complete one-piece MQB Carbon Fiber Air Intake Upgrade, which offers 100% bolt-on installation without the need for any additional pieces. 034Motorsport is proud to announce the X34 Carbon Fiber MQB Cold Air Intake System for the 1.8T & 2.0T EA888 Gen 3 engines found in the 8V/8S Audi A3/S3/TT/TTS & MkVII Volkswagen Golf/GTI/R!
034Motorsport's engineers invested significant effort in developing a comprehensive OEM+ cold air intake solution for the EA888 1.8T/2.0T Gen 3, which provides noticeable gains in horsepower and torque over the well-designed factory airbox. Throughout the development process, multiple designs were modeled, prototyped, and tested, culminating in this elegantly-engineered Carbon Fiber Cold Air Intake System. 034Motorsport engineers started by identifying the shortcomings of the factory intake system to determine which components restricted airflow to the turbocharger inlet. While the factory lower airbox and fresh air duct to the core support were more than sufficient for increased power levels, the factory air filter, upper airbox, and turbo inlet tube were deemed too restrictive, even with the factory turbocharger.
034Motorsport's mechanical engineers scanned the factory engine bay and modeled a one-piece unit to replace the factory intake tube and upper airbox. By eliminating the multiple couplers, transitions, and jagged features in the factory upper airbox and intake tube, 034Motorsport's engineering team was able to drastically reduce turbulence in the intake tract, and virtually eliminate pressure drop in the intake system before the turbo inlet. Multiple iterations were prototyped in plastic using 034Motorsport's in-house FDM 3D printer and thoroughly tested.
Ultimately, the best-performing design was a fully-enclosed unit featuring a massive 4 inlet at the air filter and a large-diameter one-piece intake tube with smooth transitions all the way back to the factory turbo inlet. To ensure that the X34 MQB Cold Air Intake System draws in cool, dense air, the system is manufactured entirely from carbon fiber, and completely enclosed to prevent hot air from the engine bay entering the intake tract. By bolting to the factory lower airbox, this design allows the enclosed high-flow conical filter to breathe fresh, cold air from the factory inlet duct before the radiator. The 034Motorsport Carbon Fiber Cold Air Intake system houses a high-flow conical air filter with a masive 4 inlet and double-layer pleated cotton filtration medium. This air filter design offers increased flow through an enlarged filtration surface, while ensuring superior filtration. 034Motorsport carefully selected the carbon fiber weave on the intake tube and upper airbox heat shield to match the factory carbon fiber engine trim found in Audi RS-model engine bays. The 034Motorsport MQB Audi/Volkswagen 1.8T/2.0T Cold Air Intake System was designed to fit like a factory part, and mates directly to the turbo inlet pipe and factory lower airbox to provide an OEM+ look. Dyno-Verified Wheel Horsepower & Torque Gains. 034Motorsport's engineering and development efforts were validated on multiple vehicles using our Mustang AWD Dynamometer to ensure that the 034Motorsport Audi/Volkswagen MQB Cold Air Intake System provided substantial increases in horsepower and torque on both stock vehicles and ones with upgraded tunes alike.
Features: - Developed In-House by 034Motorsport's Engineering Team - One-Piece Design with High-Quality Carbon Fiber Construction - OEM+ Fit & Finish Retains Factory Lower Airbox & Inlet Duct - Fully-Enclosed Design with Large Diameter 4 Inlet Pleated Cotton Air Filter - Large-Diameter CFD-Optimized Air Intake Tube - Dyno-Proven Horsepower & Torque Gains - Improved Engine & Induction Sounds - Increased Throttle Response - Improved Airflow from Factory Airbox & Intake Tube - Compatable with SAI Equipped & Non-SAI Equipped Vehicles - No Additional Parts Required! - Installs Easily in Minutes! What's Included: - 034Motorsport Carbon Fiber MQB Air Intake System - 034Motorsport Double-Layer Pleated Cotton Air Filter - Integrated SAI Adapter Fitting - Installation Hardware Compatible Vehicles: - 2015 - Present Audi A3/S3 (8V - MQB) - 1.8T & 2.0T - 2016 - Present Audi TT/TTS (MkIII - MQB) - 2.0T - 2015 - Present Volkswagen Golf/GTI / R (MkVII - MQB) - 1.8T & 2.0T Please Note: This comprehensive air intake system is designed to install on vehicles with or without factory secondary air injection (SAI) systems. No additional parts are needed! Please Note: Not for use on emissions-controlled vehicles in California.
TurboZentrum is the biggest online shop for products and accessories in the performance sector. We have the widest range of real performance products, mainly for increasing engine performance, but also for safety and track performance. And of course, as the name says, our roots and professionality is in turbochargers. About TurboZentrum In 2004 we started a small online business.
After many trade shows and events we had managed to create a respected name and brand. Now we are the largest online store for performance parts, turbochargers and accessories.
We operate retail shops in Manchester (UK) and Berlin (Germany), and offer a network of shops and companies, installations and other services. Unlike many small traders, we offer a huge range of accessories, which we can offer at an affordable price. Credentials Our customers include well-known tuners, workshops and clubs, builders of quarter-mile racing andpremium-class sports cars. Together with our support, various record breaking vehicles were manufactured! In the detail view of a product you can see if it is in stock.
If any products should not be in stock, we will inform you and carry out free partial deliveries if necessary. We have several warehouses and the parts you need may not be available immediately at the Manchester store.
The incoming payments are checked by us every hour and automatically adjusted. This item is in the category "Vehicle Parts & Accessories\Car Tuning & Styling\Racing Equipment & Accessories".
The seller is "turbozentrum_uk" and is located in this country: GB. This item can be shipped to United Kingdom.
Car Brand: Audi
Brand: 034Motorsport
Manufacturer Part Number: 034-108-1005
Interchange Part Number: 034-108-1005
EAN: 4063087809221
MPN: 034-108-1005